To: International Veterinary Public Health Consortium and Global Biodefense Network
5 October 2010
Humanitarian Resource Institute
Phone: (203) 668-0282
Url:
www.humanitarian.net
Pathobiologics International:
Url:
www.pathobiologics.org
Dear Colleagues:
Following the release of my paper "
Agricultural Security and Emergency Preparedness: Protecting One of America's Critical Infrastructures
" (HRIBRL Discussion Paper ASEP-2001-12, Humanitarian Resource Institute, December 2001. ProMED:
20011220.3076
) and role in national biosecurity contingency planning discussions, I had an opportunity to be one of the keynote speakers for the AVBC 8th Annual Meeting, "
Bioterrorism and the Biologics Industry
"." At this meeting, I had the chance to meet Bob Pitts from Bioniche Animal Health USA. Yesterday, Bob dropped me a note regarding the Anti-Cancer Research being conducted at Bioniche, a resource I have included online.
Never Give Up: Cancer Journal & Resources
Cancer Cell: DNA Sequence Antigen/Antibody Recognition
Url:
http://unarts.org/nevergiveup/bioinformatics
Today, I would like to invite all veterinary biologics and pharmaceutical companies involved with anti-cancer research and development, to forward this information to me for inclusion.
The global collaboration between the medical and veterinary professions represents a major gap that has limited our capacity to address cancer, cardiovascular, orthopedic and many other clinical diseases of major concern. As one of the founders of the global
One Health Initiative
articulated to me:
One Health principles applied via a comparative medicine approach have helped and continue to significantly assist expeditious advancement of basic scientific research towards understanding, preventing and treating many of these disease conditions as well as a plethora of public health issues.
Regrettably, in my view, the slow recognition and implementation of One Health has impeded the potential for much more rapid and efficacious developments across the board of health and health care needs.

In the context of cancer, If we can isolate a high consequence pathogen with pandemic potential, sequence the DNA and conduct a bioinformatics level analysis in 24 hours to assist with rapid vaccine development.... then we can do the same for immunomodulatory cancer treatment (Stephen M.Apatow,
DNA-based Detection Technologies
(ppt): Keynote Speaker: The Future of Biodetection Systems Workshop, Los Alamos National Laboratory, 2006).
Looking forward to your feedback,
Stephen M. Apatow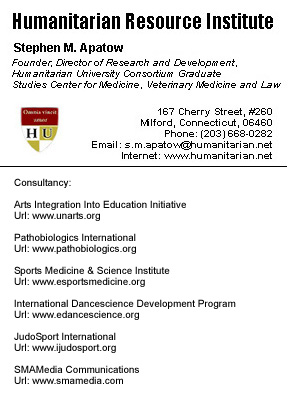 ----------------------------------------
One Health Initiative unites human and veterinary medicine
Url:
http://www.onehealthinitiative.com/
The One Health Initiative is a movement to forge co-equal, all inclusive collaborations between physicians, veterinarians, and other scientific-health and environmentally related disciplines, including the American Medical Association, American Veterinary Medical Association, the American Society of Tropical Medicine and Hygiene, the Centers for Disease Control and Prevention (CDC), the United States Department of Agriculture (USDA), and the U.S. National Environmental Health Association (NEHA). Additionally, more than 535 prominent scientists, physicians and veterinarians worldwide have endorsed the initiative. --
One Health Initiative Unites Human and Veterinary Medicine
: Humanitarian Resource Institute, United Nations Arts Initiative. Updated.
----------------------------------------