10 March 2013
Contact: Stephen M. Apatow
Founder, Director of Research & Development
Humanitarian Resource Institute (UN:NGO:DESA)
Humanitarian University Consortium Graduate Studies
Center for Medicine, Veterinary Medicine & Law
Phone:
203-668-0282
Email:
s.m.apatow@humanitarian.net
Internet:
www.humanitarian.net
H-II OPSEC
Url:
www.H-II.org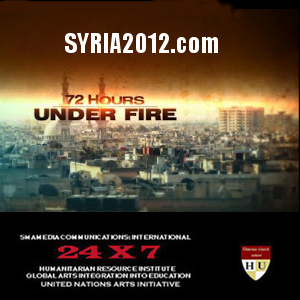 International Disaster Information Network (IDIN)

: Humanitarian Resource Institute
Syria: International Humanitarian & Security Discussions

: HRI:UNArts:

Humanitarian Intervention Initiative (H-II), February 2012 - Present.

Hearts & Minds: Country Music Association, ASCAP Artist H-II brings Syrian Crisis Conference to the Arts & Entertainment Industry.

Abandoned 23 months, with upwards of 100,000 dead, it's about time someone cared. -

Syria2012.com

-

Arts Integration Into Education through the United Nations Arts Initiative.



Psychosocial Conflicts in the Syrian Crisis Event
SAMS (
Syrian American Medical Society) Conference
Url: www.samsmi.org
Speakers In The News
‎