15 February 2013
From: Stephen M. Apatow
Founder, Director of Research & Development
Humanitarian Resource Institute (UN:NGO:DESA)
Humanitarian University Consortium Graduate Studies
Center for Medicine, Veterinary Medicine & Law
Phone: 203-668-0282
Email:
s.m.apatow@humanitarian.net

Internet:
www.humanitarian.net

H-II OPSEC
Url:
www.H-II.org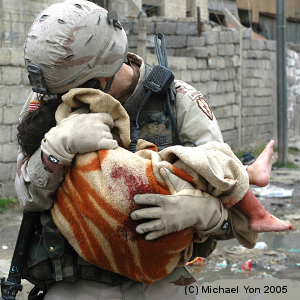 H-II - The Soldier's Tear - Human Rights and International Law
When we learn about challenges with PTSD and a suicide rate in soldiers higher than those killed in combat, we begin to touch the surface of being in a battlefield where human rights and the rule of law does not exist. --
Not Forgotten - Restore Warriors Project
As we read in the article "
Back to the Future: Human Rights and Legitimacy in the Training and Advisory Mission
" (Special Warfare,
January-March 2013, Volume 26 I Issue 1):
It is clear that genocide, murder, extra-judicial executions, torture, mutilation, slavery or the slave trade, including trafficking women or children for prostitution, prolonged arbitrary detention, kidnapping or taking hostages are all violations of fundamental human rights and must be reported. But real questions arise as to what constitutes "outrages upon personal dignity,","…cruel, inhuman or degrading treatment or punishment" and "other flagrant denial of…liberty, or the security of a person." Would condoning honor killings and the abusive treatment of women and non-Muslims and trials and executions for blasphemy and apostasy be considered gross violations of human rights?

It can be difficult for the SOF trainer/adviser to comply with U.S. laws and human-rights compliance standards while respecting conflicting standards of legitimacy in Islamist cultures, especially if those standards condone honor killings, brutality to women, discriminate against non-Muslims and deny the freedoms of religion and expression. To maintain military legitimacy while promoting democracy and human rights in Islamist cultures, respect for prevalent religions, laws and values must be an operational priority....
This is the Global War on Terrorism, [1,2] a critical part of "A Comprehensive Approach," [3,4] in Stabilization, Security, Transition and Recovery (SSTR) operations. Humanitarian Resource Institute (UN:NGO:DESA) continues to push the International Bar Association to establish an international human rights standard, based on the Universal Declaration of Human Rights, with the enforcement of international law. [5]
The Song "The Soldier's Tear" was adapted from "Music and Prejudice," Words from Thomas Haynes Bayly, 1797-1829, Chorus focuses on a quote from "The Ultimate Objective" [6]:

In Islam: "You will not enter paradise until you believe, and you will not believe until you love one another." Sayings of the Prophet Muhammad, Selected and Translated by Kabir Helminski.
"The Soldier's Tear"
Soundtrack on AirPlay Direct.
Thank you for your support of Arts Integration Into Education through the United Nations Arts Initiative:
Internet:
www.unarts.org
Facebook:
unarts
Twitter:
unarts
‎
References:
###