December 2011
Contact: Stephen M. Apatow
Founder, Director of Research & Development
Humanitarian Resource Institute (UN:NGO:DESA)
Humanitarian University Consortium Graduate Studies
Center for Medicine, Veterinary Medicine & Law
Phone: 203-668-0282
Email:
s.m.apatow@humanitarian.net
Internet:
www.humanitarian.net
United Nations Arts Initiative
Arts Integration Into Education
Url:
www.unarts.org
Twitter:
unarts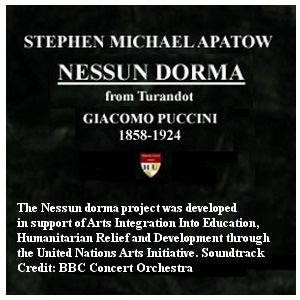 The Nessun Dorma Project - United Nations Arts Initiative
The historic level of desperation, for relief operations in 193 UN member countries, has prompted a call to artists with the innovation, creativity and a connection with the grassroots level, to lead U.S. and international humanitarian relief efforts.
"Arts Integration Into Education," through the "United Nations Arts Initiative" provides a unique opportunity for members of the arts community to impact prioritized humanitarian emergencies and relief operations across the globe. Efforts to "Bridge Unmet Needs to Untapped Resources," includes participation with strategic planning, critical analysis, expert think tank development for background discussions, peer reviewed data compilation and communications that engage decision makers and target audiences on the grassroots level in 193 United Nations member countries.


T
he UN NGO Humanitarian Resource Institute is the support system for these efforts and looks forward to the advancement of grassroots education, policy development and relief efforts across the globe.

On the web at:
www.unarts.org
The Soundtrack "Nessun dorma" by Artist Stephen Michael Apatow on AirPlay Direct, (2009) Soundtrack Credit: BBC Concert Orchestra (Listen Only - Download:Radio/Television).
Needs Based Strategic Planning - 193 Countries.
"The World Can't Respond, If The World Doesn't Know"
Related:
Music Projects:
Rock The World: The United Nations Arts Initiative.
It's time to work together as ONE.
###